Welcome!
The women mentioned on these pages represent a fraction of women warriors in history. Records show that women defended homes, villages,and castles. Like men they have duled for honor using sword or pistols. They have been spies, terrorist, bandits, and pirates. They have fought in aerial combat, guerilla warefare, and hand to hand combat.
I enjoy writing novels with strong women. My novels have been published and are available at Amazon.com and other online bookstores. Bull Dancer and Onyx Owl are also on Amazon's Kindle
If you would like to see a video book trailer, click on the book traier link in the upper left hand corner of this page.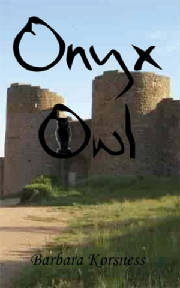 Teresa uses her wits more than weapons to battle her foe. Caught in the act of stealing, she joins an old retired Spanish soldier to rescue victims sentenced by the Inquisition to die. Her partner is the Onyx Owl wanted by both the church and the Spanish authorities.

Using a web of deceit, she befriends the foe. She and the Onyx Owl save many unfortunate prisoners from a death by fire. When their enemy, Estaban, discovers what they are doing, Teresa and the Onyx Owl flee to the New World. But Estaban is not far behind
Katherine Rose Kingsley is a half-blood Cheyenne and has given up any claim to be a part of the white man's world. Her mother is Cheyenne and her father is white. She adopts her Indian name Prairie Rose and goes to the sacred hills on a vision quest where The Great Spirit grants her a vision. She goes on a quest to learn the meaning of the message. With the white man's mistreatment of the Sioux and Cheyenne she becomes involved with defending the people she loves. At Little Big Horn, the Indian's win the battle but lose the war.

When the white men start taking the children away from their parents and sending them to schools in the East in order to civilize the "savages, a medicine man and Catholic missionary interpret Prairie Rose's vision and she learns her destiny.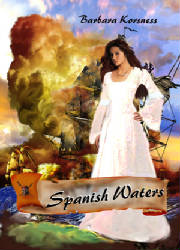 While the French attack the Spanish colony of Santa Maria, Catana and her friend Louis rescue an Indian and black man forced into slave labor. She and her three companions steal a Spanish sloop and sail south to freedom and to search for Catana's father. In Havana they find the Spanish do not take kindly to those who steal ships and slaves.

They flee to Port Royal and learn that the two shipwrecked men the picked up have a price on their heads. In self defense she and her companions "go on account" and join the brotherhood of the coast.
Spanish Waters was an ebook and is available now as a hard copy book under the title Give no Quarter
My books at amazon.com have the "look inside" feature.
If you put my name, Barbara Korsness, in where it says author, all my books will come up, or if you click on the book cover it will take you directly to the book at Amazon.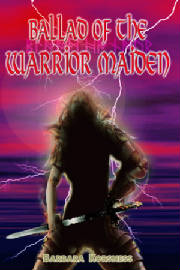 Ballad of the Warrior Maiden
Ballad of the Warrior Maiden
A Celtic maiden leads a band of Viking warriors to an unknown land and a lost treasure.
Marked by the sign of Thor, Rianna a young Celtic maiden is drawn into a search for a lost treasure. With the help of an enchanted sword and Roderick the Raven, she sails with a Viking crew to a mysterious and dangerous land where the natives practice human sacrifice atop a pyramid.